Featured Article
Bake it Fresh, Now
By Marcia Jedd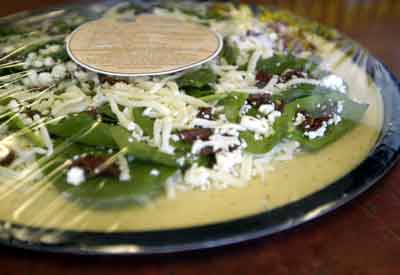 From its origins on the West Coast in the early 1980s, take-and-bake pizza is taking hold across much of the United States. Consumers are showing preferences for take-and-bake outlets that make pizza on the spot that is appropriately packaged to take home for immediate cooking or for refrigeration to bake later.
"The take-and-bake phenomenon becomes fantastic as consumers remove the fear of delivered pizza, because it's never late or cold," says Big Dave Ostrander, a pizza industry consultant in Oscoda, Michigan. "The large operators will do the heavy lifting on the marketing and getting its unique selling proposition out there. Number one, the pizza is made fresh, not frozen, right in front of your eyes."
One such heavy lifter that's on most consumer radar screens is Vancouver, Washington-based Papa Murphy's, the nation's largest take-and-bake chain. Dual-income families with children are a key target of a growing number of take-and-bake operators and Papa Murphy's is no exception. "Kids today have more structured activities and sports than any other generation. That puts a time crunch on the family and that's where we come in," says Mark Strickler, vice president of brand marketing at Papa Murphy's.
"Papa Murphy's takes very measured growth at about 10 percent more store counts each year. That smart growth is one of the measures of our success," Strickler says, noting currently the franchisor has 950 locations in 32 states. "We're expanding, but not in the Northeast or Southeast yet."
Similarly, Salem, Oregon-based Figaro's Italian Pizza started in 1981, and has grown to 105 stores with more than half of its stores in Oregon and Washington. "We're in 20 states, many in the heart of the Midwest, with a few in the Southeast," says Jerry Doty, vice president of marketing at Figaro's. Like Papa Murphy's, Figaro's uses a master franchise development model and plans for controlled growth.
"If Papa Murphy's has beaten us to a market -- and they've done a great job of marketing throughout the Midwest in clusters -- they're bringing a great awareness," Doty says. He says other chains, even regional or local operators, have paved the way toward educating consumers on the concept of taking a pizza home to bake at their convenience. "A lot of groceries have pizzas in the deli section, not just frozen foods," Doty notes.
"The ultimate convenience is to have pizza hot, right out of the oven when you want it," Doty says. He adds the price point of take-and-bake pizza often beats out midscale restaurants, making it even more attractive. "You can feed the entire family with take-and-bake pizza for $15 to $20," he says.
With a "we bake or you bake" tagline, Figaro's adds a twist where most competitors don't: Figaro's is the largest take-and-bake chain that offers consumers the option of a hot, ready-to-eat baked pizza. "Our slogan appears on our boxes and our ads all the time," Doty says. "Like any new idea, people get their heads around it and it becomes well understood and received."
Nick-N-Willy's World Famous Take-N-Bake Pizza of Denver, Colorado, is slightly smaller than Figaro's in U.S. coverage with nearly 100 units planned by late 2006, according to Richard Weil, president and CEO. Weil says the franchisor plans to have 500 units in place by 2010. "It's a realistic goal with 32 area developers working local markets. We're very deliberate with our growth."
Some franchisees associated with Nick-N-Willy's have closed their doors. In part to counter the problem, the company realigned its location strategy to target commuters on the "going home side of the road," Weil says. "We're also looking for locations with easy access as far as convenience such as grocery store anchors, whether a Super Wal-Mart or Super Target where busy families need to stop and go."
A relative newcomer with an eye toward franchising is four-location Mama Mimi's Take 'n Bake Pizza of Columbus, Ohio, recipient of the 2006 International Pizza Expo Pizza Festiva! award. Owner Jeff Aufdencamp cites expansion by Papa Murphy's during the last five years as rising all boats. "Take and bake is very convenient. We also sell lasagna so families can grab dinner at a time that fits in with their schedule," Aufdencamp says.
Mama Mimi's targets high-income families, Aufdencamp says. "There's a convenience factor for families with great homes and beautiful kitchens. We try to focus on premium products in addition to value." For example, Mama Mimi's puts its pizzas on silicone-coated parchment paper which, Aufdencamp says, renders superior cooking compared to oven-proof cardboard. It also shrink wraps all its pizzas in lieu of film wrap. "You can drop our pizza," he says.
Other twists on the concept include traditional pizzerias venturing with grocery stores to sell previously prepared, fresh pizzas in the refrigerated case. And traditional chains are reportedly entering the take-and-bake category: Strickler of Papa Murphy's notes Papa John's recently abandoned its take-and-bake market tests.
Midscale restaurants are also joining the take-and-bake bandwagon. Matt Odenwald, bar manager at Lodo's Bar and Grill in Highlands Ranch, Colorado, says nearly two years ago the restaurant began offering a variety of gourmet-style large pizzas for take-home baking. "It's a popular item and it's value priced," Odenwald says. "We tried a couple different competitors and our owners thought they could do better.
Marcia Jedd is a Minneapolis, Minnesota freelancer, communications consultant and marketing researcher. She also has experience waiting tables at a pizzeria.